Welcome to the Official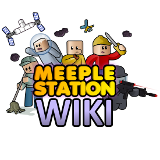 the Meeple Station guide written and maintained by the players.
Please feel free to contribute by creating new articles or expanding existing ones.
About Meeple Station
Meeple Station is a game created by Stephen Lucerne and Alexander Poysky, who are "Vox Games/Gameclaw Studio".
The game is a cooperative Space Station simulator, primarily inspired by Dwarf Fortress and Space Station 13. [1]
In this simulation, the players must build and maintain their own space station and hire experts to keep the systems up. Every Meeple has his own job, but like in real life, Meeple are fragile creatures, so especially in space, death lurks around the corner.
Build, manage and defend!
Adjust your airlocks, fix life support systems, keep the energy going, trade and make the Meeples in space a home, protected from pirates, dangerous aliens and deadly meteorites!
Other game features are trade and exploration.
Wiki
Help Wiki
Community
---
To write a new article, just enter the article title in the box below or in the search box at the top of the page.
---
Adding content

If you are unsure of what to do or how to create a page, search for a few articles on the same topic and see what they look like. You can always view the source code in a wiki and learn from what others have done.
An edit doesn't have to be massive; if you feel you don't want to create whole articles, then just fixing spelling errors and broken links is enough.